April Meeting Minutes
Paul Ladig gets ready to perform
a miracle for

the group.
Magic Brad Gudim and Manny Betinis look on. 
Prior to performances, we paid tribute to Bill Von Stocken who recently passed away. Bill, aka Darnay, mentored Justin Flom (as a young magian) who created a brief video tour of the theater, pictures of magicians, props and books that Darnay kept in the basement of his home. It was a very sentimental memory.
We then discussed creating a "Tribute Page" of deceased SAM members to add to our website. Even though the idea was enthusiastically embraced, there were a lot of questions about how to handle the information and what should be included. So a committee headed up by Greg Broder was created to explore details and how to proceed. Steve Peer, who first suggested the idea, Adam Moore our web administrator, and Larry Kahlow will also be members.
Tom O'Lenick and David Stahl reported on their recent trip to work as Stage Manager and Production Supervisor for the 50th Annual Academy of Magical Arts (Magic Castle) Awards Show. David Copperfield was named "Magician of the Decade." Numerous Showroom and Fellowship Awards were presented by Dick Van Dyke, Paul Reubens, John Gaughn, Mike Caveney, Michael Carbanaro and others. Notable recipients included Richard Turner, Johnny "Ace" Palmer, Shoot Ogawa, Collector Ken Klosterman, Historian Peter Lane and Shimada. Comedian and television personality Larry Wilmore was the host and Erika Larsen, Past President of the AMA was the Executive Producer.
The group also approved a lecture by Magician Steve Marshall on Tuesday, Sept. 18th. Steve, a former MUM columnist has appeared on Penn and Teller's Fool Us and now lives in Japan. Mark your calendars. This will be a free event for SAM members. For all others admission will be $20.
"Rising cards and other ways to cause a card to magically leave the deck," was the theme for our April Assembly meeting. Larry Kahlow started the performances by showing a technique for making a card rise from the deck using his little finger. Then, Paul Ladig showed a clever trick using a plexiglass holder with a rod penetrating the center. When the rod was removed, the deck "plopped" down and left the selected card rising out of the deck. David Stahl performed a Devano style rising cards finding two selected cards. Tom O'Lenick demonstrated Cardiographic Lite by Martin Lewis.
Treats were provided by Paul Ladig, Jerry Martin, Tom O'Lenick and Jennifer Kahlow. Magical socializing followed for about another hour.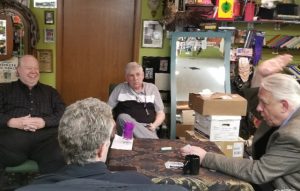 Chatting after the meeting with Larry Kahlow, Brad Gudim,