February SAM Assembly #12 Meeting Report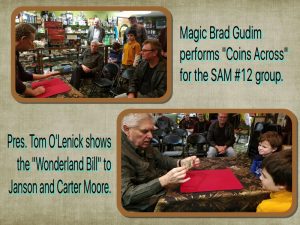 Despite a heavy snowfall early in the day, a small but vital group of magicians attended the February SAM Assemble #12 monthly meeting. We also welcomed two guests. Jason and Carter Moore, the sons of our Treasurer Adam Moore who attended with their Dad. They saw lots of magic up close and personal.
 Performances included Paul Cook who showed "Holey Moley" (by Jay Sankey) where the hole in one of two washers magically moved to join the hole on the other washer. Magic Brad Gudim did a classic coins across effect. Host Larry Kahlow demonstrated a few sleight of hand coin moves using half dollars and a pocket handkerchief. Larry also showed a classic "Coin Thru" to the kids. Adam Moore did a coin effect and showed a recent purchase of a Fantasma Magic "Pen Thru Dollar" that he found at a Dollar Store.
In keeping with the theme – "Paper Money or Coin Magic" President Tom O'Lenick performed the "Bag 4 Life" where a quarter magically is removed from a small plastic bag leaving a penny inside. He also showed the "Wonderland Bill" a topological trick (where a dollar bill magically turns around) created by Nick Brown  For the Teach-A-Trick portion of the meeting O'Lenick did a "Topsy-Turvy Dollar Bill" effect where alternating dollar bills were reversed and yet the presidents kept returning to the same face up orientation.
During the business meeting the group approved a donation of $100 to support the American Museum of Magic in Marshall, Michigan originally established by Bob and Elaine Lund.
We also agreed to change the dates of the April and May meetings (so as not to conflict with other magic events) to one week later than the regular monthly meeting day (third Friday). The April meeting will now be April 27 and then in May on May 25. Please update you calendars.
The March meeting date will remain on the third Friday, Mar 16. The theme will be:
"Magic with Things You'd find in a Casino." 
Magic conversations and yummy cookies and other treats followed prepared and presented by host Jennifer Kahlow. Until soon, best magical wishes, TomOL
Thanks to the magic vendors that provide gifts to the group. MagicbyGosh.com ; PaulRichardsMagic.com and Hocus-PocusMagic.com