S.A.M. National President John Sturk coming to 100th Anniversary Gala
On October 15, 2023, John Sturk, the 107th National President of the S.A.M., will be in the Twin Cities for our 100th Anniversary Gala! He will open our event with his lecture and will perform in our after-dinner program.
In his lecture, John will cover:
Lessons learned as a street performer
Classic Chicago-style effects
How to Treat a Spectator
Forgotten Utility Devices
How to Rise, Rise, and Rise a Card
Hidden Secrets from Patrick Page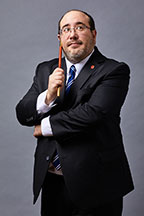 John Sturk is an award-winning comedy magician from Chicago, IL. John is also a co-founder of the Chicago Magic Lounge, has been seen on Fox, ABC, NBC, and the Travel Channel, and is a favorite all over the Midwest.
In addition to magic, John is also a talented musician, working as an improv music director for many of the Chicago theaters, and recently joining the faculty of the famed Second City Training Center.