June 16th Meeting Report
Pictured: (clockwise from upper left) – Tom O'Lenick, Larry Kahlow,
Paul Cook, Kevin Smith and Paul Black; (center) Jerry Martin.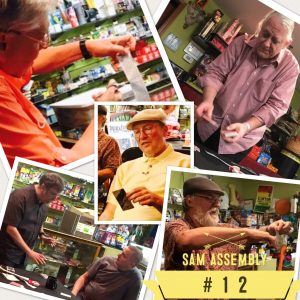 A June meeting was added to our regular meeting schedule (Sept to May). To make it special, we started off with a social hour and picnic/bbq prior to the magic. Thanks to President Tom O'Lenick who provided brats/dogs and buns which we grilled outside our Eagle Magic Store meeting location. Other members brought various chips, soda, water, adult beverages, deserts and ice cream that were graciously shared.
Following a brief business meeting, we debriefed about recent local lectures (Ken Dyne and Eugene Burger) and the regional AbraCORNdabra convention that many attended. The group also was reminded of the upcoming free lecture by Max Krause sponsored jointly by the SAM and IBM groups.
The theme for the month was "Newspaper Magic." The performers included:
Paul Cook and Steve Peer who each did clever variations of a newspaper clip line effect. Kevin Smith (with the help of Paul Black) identified the selected card by ultimately snipping four diamond shapes from a small piece of newspaper. Using a folded sheet of newspaper, Larry Kahlow was able to tear silhouettes of three chosen cards from the paper. Greg Broder shared a paper tear that created a Christian message using the word "Hell" and formed a "Cross." Finally, Paul Ladig showed a comic newspaper headline that he uses when he performs the Wrist Chopper.
For "Teach-a-Trick," Tom O'Lenick demonstrated another Newspaper Test (clip line type effect). First, the newspaper column was cut at the point chosen by Jerry Martin. He then picked a word from a few lines near the "cut point." That thought of word was revealed by O'Lenick, as well as the sentence that contained the word. Historical reference: The original idea of a "Newspaper Test" was first published in 1964 by Albert Spackman in the British magic magazine "The Gen."
Now a message from our sponsors! Greg Broder won the drawing for a performance prize donated by Steve Goshman of MagicbyGosh.com; Jerry Martin won the attendance prize donated by Paul Gross of Hocus-Pocus.com.
SAM Assembly #12 will be on hiatus through the summer months. Our next meeting will be on Friday, September 22. If your travel brings you to the Minneapolis-St. Paul area, please attend the meeting. Until soon, best magical wishes, TomOL